If I could describe the night of the ball in one word, disaster nor heartbreaking wouldn't fit in. It was a ball! An amazing, spectacular, magical ball!
To arrive to the castle, I was sent off on a horse and a very bumpy carriage. Once I entered, the knights granted me a V.I.P entrance, allowing me to stay inside and watch how the guests made their way through the gates. As they passed a white glowing lake, I could see them all: queens, kings, princes, princesses, knights, warriors, musicians, cooks! Dressed in their best and stunning evening garments, drinking finest champagne and chatting with their friends and family.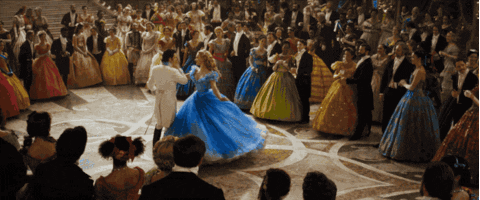 [Source: Disney via Giphy]
It was absolutely the most beautiful night anyone could have imagine, yet there I was from the window searching for sign of your handsome figure, dressed in black and white, conflicted whether to ask me to dance, share my first kiss, promise a life of eternal happiness… at least that's how I expected it in my mind. However, life was more realistic, truthful.
Earlier that evening the Fairy Godmother and I had planned a grand entrance to introduce myself as the eligible grown woman I had become (cringe). It was during this performance when you sneaked into the ballroom, dressed in black and white, handsome as ever, with a strange maiden by your side. She matched you perfectly, a sweet and experienced woman, holding your hand as you made your way to your seats. Although the spotlight was shinning me, it felt as if it was following the both of you, secretly and glowing on your love.
I should had been heartbroken, maybe even trying to run away to the bathroom and cry. Still I stood there, giving the best performance I've ever done. If there's one thing I'm proud about my teen self, it'd be this exact moment, when I chose to have the best night of my life, rather than feeling sorry for myself.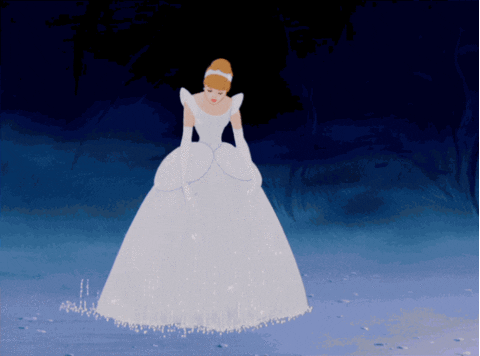 [Source: Disney via GiphyDisney via Giphy]
Though some my closest friends (or everyone, pretty sure everyone knew about my crush) were concerned, the only thing we could do is to shake it off. After your brief appearance, you disappeared (from the scene and my mind) and in less than hour you were gone, but not before greeting me as you left. Whether you knew if I had a crush on you or not, I'd like to thank you for being honest (again), even if this wasn't the best way to express it.
As I said many times before, it was the best and most beautiful night ever! It also could have been the perfect ending for us, except, three years later, our feelings would be reversed.
[Featured Image Source: Cinderella (1950) via Animation Screencaps]