Since we were young, my sisters and I would play this silly game where we ask ourselves what we'd like our perfect mer-guy to be like. As usual, we'd say these very specific details based on personality and physical traits, which we understood were impossible to find in just one fish out of plenty in the sea. "Lower your expectations!" as my sister Attina would say, an advice that somehow became irrelevant when I met you.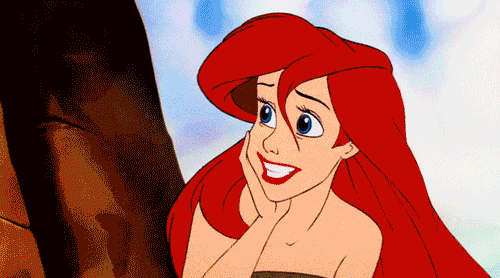 [Source: Tumblr via Giphy]
When we first met, you were a guppy, a cute human guppy with a charming smile and great personality. You were a gentleman from the beginning and at times I regret not spending enough time with you. Truth be told, I was shipping myself with another, which I regretted instantly after getting to know him. Luckily, you and my sisters were there to rescue me from that shipwreck, a story that I'll be able to tell later on.
It took me years, years to realize what an amazing friend I had and perhaps even more. How could have I not seen it? Same interests, ambitions, dreams and a tremendous bonus for intellectual qualities. I could easily talk to you for hours through a seashell and never get tired of listening to your voice, although I think you know a preferred to be at our secret hideout inside the castle. It was the closest we could share land and sea and farthest from the folk that kept wanting us to return to our duties. It was refreshing to have someone that wasn't interested in the titles that both of our relatives held, we weren't royalties, we were just us. Trust me when I say that it's not easy meeting someone who truly loves you for who you are and not the favors you can grant in the kind of kingdom we were roaming.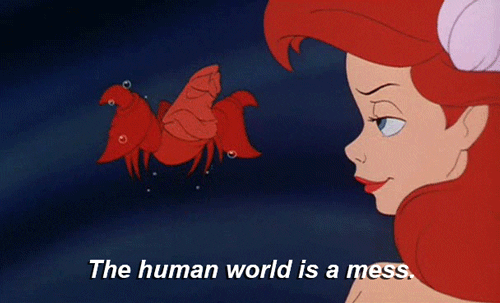 [Source: nerdette-with-the-top-hat.tumblr.com via Giphy]
However, as much as my admiration, adoration  and love for you may be, there's a reason why I can't speak the truth whenever I'm with you. Wish I could say my voice was stolen by a sea witch, but it's far worse than that. It's a princess from a far away land, the one that has the key to your heart, while I just have few of your treasures. She's the one that kept me from telling you how I really felt that last summer night, when I finally realized I wanted to be part of your world.
[Featured Image Source: The Little Mermaid (1989) via Animation Screencaps]