One day, one night, that's all we had together. In a dark cove, admiring the stars' bright performance, surrounded by plenty of fish in the sea, we spent the night together talking about the silliest things, pretending it wouldn't be our last. At least that's what I did, I pretended not to think about the possibility of not seeing each other for a very long time.
However, my dear, my sweet prince, you did the opposite of my intentions. Throughout the whole night you showered me with compliments, which I didn't know how to respond to. You said the words I love you so freely, carelessly, that whenever I said it back, it didn't felt right. Not because it wasn't true, no, it was more than that, it had a different sense, a meaning that I'll always doubt you felt too.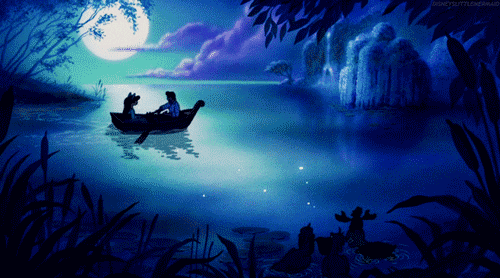 [Source: effyeahdisneyprincesses.tumblr.com via Giphy]
Did you feel it? The spark? With your little spontaneous gesture of affection, my heart was torn apart between fear and passion, regret and desire, her versus us. If it wasn't for her, then I would have given into your arms, said the words that needed to be said and held you a bit longer as we bid our goodbyes and farewell. Despite the feeling, I would never want to be the cause of somebody else's pain, I'd rather dissolve into sea foam.
After that night, my sister Arista was the first to know my true feelings, then I told the others, but not at the same time. I'm close to my sisters, I wanted to tell them every detail and seek their advice. Though I received different opinions, I ended with the same conclusion.
I can't be part of you world, as much as I would love to, we follow separate paths, dreams and opportunities. It's not that we don't belong in each other's world, it's that we want to belong to others far and different. But darling, you're so perfect, you're too perfect. So perfect, that it makes me wonder if I'll ever stop thinking of you as the perfect fairy tale.
[Source: La mejor vista by Natalia Marie]
When I think of you, us, I think of the ocean, stunning, beautiful and grand. It serenades us, it keeps us apart and it'll unite us one day when our worlds collide again. If you ever need a friend, I'll always be here waiting for you in this small yet enchanting island we call home.
Yours truly, Ariel.
[Featured Image Source: The Little Mermaid (1989) via Animation Screencaps]