What's a date? What makes a date a date? Is it the way you ask someone? Their intentions? I wouldn't know, I've never experienced it nor was I expecting do it by accident.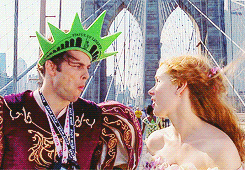 A magic mirror wide and tall decorated the center of a darkened room, where it's moving lights entertained us with the tale of a strong princess, who's bravery and kind heart saved humanity from destroying themselves. An inspiring story I've been waiting to see for months, devastatingly turned into an exchange of awkward glances and sweaty hands.
"Are you okay?" you asked with your baby blue eyes as I focused on the story. You repeated the question not once nor twice, but three times which I replied with "Yes, I'm watching the magic mirror talk. Shh!" Though some of people may argue that he's only trying to be a gentleman, I believe the complete opposite.
Those questions weren't to make sure if I was alright, they were asking why I wasn't cooperating, complying to your kind gestures, why the white knight's manners weren't getting him the princess's hand. I rejected yours two times and behaved like a b… a villain through silence and cold stares, thinking it might be enough for you to understand. Nevertheless, your hopelessly romantic spirit continued to pursue my heart, and as we exited the building, you asked something far worse than marriage as you bent down in one knee: "Shall we gallop there?"
With what horses? An embarrassment, it was an embarrassment to be standing in front of a gentleman, a silly boy who was trying to please me with manners, kindness and wealth. After rejecting your hand for the third time, the atmosphere shifted into a cold, gloomy, disappointing state.
[Source: Enchanted (2007) via Animation Screencaps]
How does she know you dislike her? How does she show him she's not interested? How doe she know that you really really truly hate her?
---
Sweet prince, I am sorry for acting like a cruel and spiteful villain. It can't be justified, if I had been honest from the start, our friendship could have been salvaged. As I went back home with a shattered heart, my eyes watered thinking about what an awful person I had become. "Who am I?" I asked myself, "Was this my first date? No, it couldn't be. I never agreed…" yet I never said no, I didn't told you it was only a get together.
The next day the queen and her minions asked about us, I pretended to laugh about it and said how uncomfortable it felt. Hiding my true feelings was the best option, but I couldn't seem to do it with my friend, my true and tiny friend Pip. Despite being smaller and younger than I am, he's a wise and caring companion who isn't afraid of speaking his mind. Though sometimes I find him to be a little too blunt, he's the only person I trust to pour my feelings out.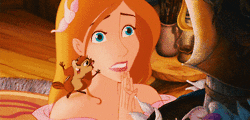 [Feautured Image Source: Enchanted (2007) via Animation Screencaps]
Disclaimer from Animation Screencaps' website: These screencaps are provided free for non-commercial entertainment and education – fan art, blogs, forums, etc. We are not endorsed, sponsored or affiliated with any movie studios. All copyrights, trademarks, and logos are owned by their respective owners. This site is for non-profit/educational use only.