Friends, they are all you'll ever need. They're what keeps us looking forward to waking up, going to work, having lunch with them, talking about our hopes and dreams and perhaps even make fun of our crazy wedding ideas where everything is tragically pink with a unicorn as the centerpiece (just my wedding idea, obviously).
That's what my friendship was like with Pip, it was true and caring, just like any friendship should be. If it weren't for him, my tiny pal, I wouldn't have had the courage to tell you the truth.
[Source: Enchanted (2007) via Animation Screencaps]
Almost had I fallen into a spiral where the woman is at fault, thinking that everything messed up about us must had been my mistake. Sitting at the only place you couldn't find us, Pip snapped a dose of reality to me. Why should I feel bad for not wanting to hold someone's hand? or not accepting their gifts? Does it make me a bad person for not liking you?
Why should I be the one left to blame? Why am I the villain of the story? I'm not a righteous saint, but heroines make mistakes too. I learned from mine, did you?
It took a full year to get over you and I believe it's time to say say goodbye and farewell. "How does she know you love her?" She knows, "How does she know she's yours?" She's not, I'm not. Sweet naive prince, I'm not a trophy, I'm not a second choice, I'm not a cheater, I'm not materialistic, I'm not a social climber, I'm not weak, I'm not poor, I'm not your princess nor will I ever be.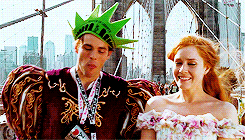 Under a bridge I waited, nervously pacing back and forth. Looking at the castle I once adored deteriorating, as the clouds were creating another storm. The time had come to confess the truth, but as I saw you walking through the gates, I wanted to run off like Cinderella and lock myself in a tower like Rapunzel. "Take a deep breath." I said to myself, and as you came towards me with that grin in your face, the words poured out of me like a bitter poetry.
As expected, you avoided confrontation, dismissed reality, acted if I wasn't being sincere between us. Though you apologized through another letter, you weren't sure of what you've done. Sweetie, honey, darling, I'm done explaining to you, it's time to move on and if you're still confused, ask someone else.
That same afternoon I sat down with my friends at a small round table, I told them everything, not to gossip nor spill the tea, but to breathe. The air was fresh, the sky was clear, the birds were singing their melodies. The castle once damaged by false fantasies transformed into an exquisite palace, leaving beautiful memories instead of nightmares behind. It was as if the world knew the end of our time was near, yet there came a brand new chapter, unexpected, better, with the people you'd least expect.
They're beyond what words could describe, they're my friends and as I said at the beginning, they're all I'll ever need.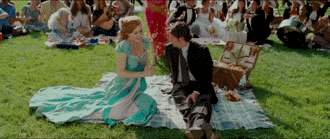 [Source: princessnainoi.tumblr.com via Giphy]
Au Revoir, Giselle
[Featured Image Source: Enchanted (2007) via Animation Screencaps]
Disclaimer from Animation Screencaps' website: These screencaps are provided free for non-commercial entertainment and education – fan art, blogs, forums, etc. We are not endorsed, sponsored or affiliated with any movie studios. All copyrights, trademarks, and logos are owned by their respective owners. This site is for non-profit/educational use only.