Everyone knows what a huge Disney fan I am. You could easily tell by looking at the items I carry. For as long as I could remember, I've been known to be a Disney freak, I could recite the whole Frozen script without hesitation and sing my heart out to every song in the Little Mermaid.
It's true, I was obsessed and I still am a bit. I've grown to love other things. K-Dramas, Taylor, languages, politics, airplanes, what up?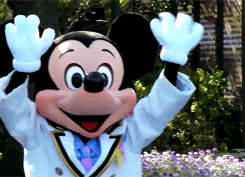 [Source: superheromickeymouse.tumblr.com via Giphy]
However, this isn't a story about how many things I like or don't like, this of how one little conversation made a huge impact in my life. Since ninth grade, I've had the tradition of buying Disney Princess notebooks. Every year I waited excitedly to see what new designs NORMA had created.
I also bought other school supplies such an Ariel backpack from Hot Topic, stationary sets from Disney Store and with the help of my mother, we covered my school books with Anna and Elsa cutouts. I never felt judged for having them, my best friends and I usually loved to have these items with us. Some of the teachers even complimented me about them, except for one that decided to questioned this choice on my senior year.
[Source: My Senior Year Disney School Supplies by Natalia Marie]
I have nothing against my teacher, they were an excellent educator who taught us about how the real world works and to be wary of it. A wonderful example of what a teacher should be.
I don't remember the lesson nor what date it was, we were sitting in class listening to her lecture when we suddenly shifted the conversation to talk about the difference between university and high school. During the lecture, out of the blue, she asked me, "Are you thinking about using those Princess notebooks in college?"
"Yeah?" I replied confused, she proceed to ask a follow-up question, "Aren't you afraid of what others would think?" referring to my future professors and classmates from the university.
"I don't need to change because of the opinion of others." I answered, confident yet a bit shocked by the questions. She nodded and said "Very well then."
After class my two best friends approached me and said that it was very rude of them to have said those things. Liking something like Disney doesn't make you immature nor unprofessional.
[Source: Senior Year vs. College Freshman by Natalia Marie]
In spite of my words, the thought of not being respected in college scared me. I thought I had to grow up, ditch the Disney merchandise and become a woman. For some illogical reason, we tend to make fun of others who don't share the same interests as we do.
Especially in high school, a place where we should be encouraged to show off our true colors, becomes the opposite to please the groupies. When I entered my first year of university, I was terrified, I barely spoke to anyone and became lonely the first few weeks.
That high school experience had somehow forced be to be someone I wasn't, I bought these school supplies that I thought to be more mature, fashionable and cute. What a university woman should be using and wearing.
I was scared and sometimes embarrassed to show off my Disney side. Until one day, I met someone in art class who changed my point of view. That day our professor had asked us to make a portrait of ourselves, we could either draw it or take a picture. I chose to do a selfie, since my drawing skills weren't the best.
I took a selfie wearing my favorite Alice in Wonderland dress, Minnie Mouse Ears and holding a Kristoff tsum tsum. I wanted it to express who I am, but when I handed my picture that day, my heart began to beat at a fast pace.
"What have I just done? These pictures are so bad!" I said to myself. When the professor showed them off in class, I had to explain what I was holding in my hand, since it wasn't clear to see the tsum tsum. It was an awkward moment, because I thought nobody knew what it was and it made me look stupid.
Then she turned around and said to me, "I like Disney too."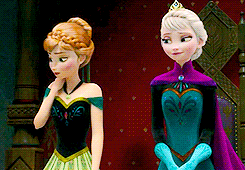 [Source: bloodydifficult via Giphy]
On October 23 of the year 2015, I met my best friend Valeria. We met through our love of Disney and – well, just Disney for that moment. We were both proud of who we were, showed it off on every project we did further on.
Then I met others through similar circumstances, the love of cats I shared with Leandra, the laughter of the simplest things I shared with Coralis, the passion of language I shared with Namir, the fangirling over Miraculous with Katia, the tv and film fandoms I shared with Karolyne, the obsession with Taylor Swift (and slightly dislike towards one of our professors) I shared with Solimar.
These girls taught me of how to be myself, to accept who I am without fears, because I knew that at the end of the day, we would always support each other. It's been three years since we've become friends (except for Soli, the sister I've met a year ago) and though we don't hang out as much as before, they're what makes my university experience a hundred times better than I could have imagined.
You'll always be las Princesas Durakas (plus Leo), in my heart. Thank you for supporting me on everything I've done since my first year, no matter how crazy the ideas may seem. I hope you guys never change and even if you do, do it to become the person who you truly are.
We've grown together like sisters and though we're apart, though we barely see each other anymore, I know that all of you are going to do so many great things in the future. I love you all so much and I hope God blesses you all every day.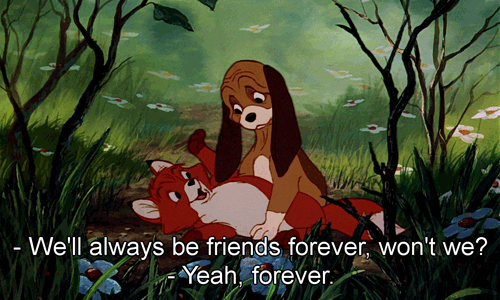 [Source: meagansingleton via Giphy]
[Feautured Image Source: My Senior Year Disney School Supplies by Natalia Marie]